While the idea of relocation may sound exciting, the legal procedures and social integration might be just as tricky. However, don't unpack your luggage just yet. In this article, we collected the top 5 countries for easy relocation that may become a new milestone in your professional and personal life.
1. Estonia
For digital nomads and entrepreneurs seeking a business-friendly European base, Estonia stands out as one of the best countries to relocate to. Especially because Estonia has relatively easy and fast legal procedures when it comes to migration.
In 2014, Estonia established the e-residency program, allowing foreign entrepreneurs to register a business and access the European market without physically residing in Europe. All it takes is a couple of documents, 4-6 weeks of the approval period, and a small fee. Hence, e-residency is also an option. However, the physical relocation is just as straightforward.
Relocation Procedures
If you decide to relocate to Estonia, your first step before entering the country is to choose between the following options.
Digital Nomad Visa
Allows foreigners to reside in Estonia for up to 1 year to conduct remote work for an employer outside Estonia.
Requirements: proof of income, health insurance, and a clean criminal record.
Temporary Residence Permit for Employment:
Required for foreigners coming to Estonia for employment with an Estonian or EU employer.
Valid for up to 5 years and allows the holder to work for any Estonian employer.
Requirements: a job offer and qualifications match the job requirements.
The further steps depend on the type of business you operate.
Self-employed permit:
The individuals must already hold a long-term Estonian visa, like a digital nomad or temporary residence permit.
Requirements: the proof of capital, investment in the sum of EUR 16 000, business plan, etc.
Residence Permit for Business:
Allows to live and operate their business in Estonia for up to 5 years.
Requirements: a viable business plan, proof of at least EUR 16,000 capital funds, and valid health insurance. The business activities should benefit Estonia's economy.
The application involves registering an Estonian company first, then applying for the entrepreneur residence permit through the Police and Border Guard Board. Processing time is typically 2-4 months.
2. Czech Republic
The Czech Republic has recently become one of Europe's most popular relocation places, especially for digital nomads. A strong economy, high living standards, and a central location in Europe make Czechia comfortable for workers to settle and start businesses. The Czech Republic, in turn, provides an easy and fast migration process for everyone who chooses Czechia as a place of residency.
Relocation Procedures
The Czech Republic has many migrations and long-term residency options, each with specificities. However, for the purpose of this article, we will focus on a couple of them.
For the Purpose of Business:
Applicant must operate an active business either as an individual entrepreneur or found a Czech company.
A business plan needs to demonstrate economic benefit to the Czech Republic through activities like exporting, creating jobs for locals, etc.
The minimum capital requirement is dependent on the type of business.
Permit is initially granted for 1-2 years and, then, renewable.
For the Purpose of Investment:
The amount of investment should be CZK 75 million.
Investments can be in assets like real estate, treasury bills, company shares, etc.
The business should provide at least 20 full-time jobs.
Health and travel insurance is required.
Investment capital must remain in the Czech Republic for at least 5 years.
Renewable permit granted for 5 years initially.
Entrepreneurship or Freelance Visa (Zivno Visa):
Business Plan: Detailed business plan outlining the self-employment activity, 3-year financial forecast, and proof that it will benefit the Czech economy.
Health Insurance: Foreign applicants must have public health insurance valid in the Czech Republic.
Residence: Applicants must reside in the Czech Republic or arrive within 30 days of receiving the residence permit.
Visa Validity: Initial permit is granted for 1 year and can be renewed every 2 years as long as the activity continues.
Tax Compliance: Zivno visa holders must file taxes annually and show proof of income from self-employment.
Language Skills: Not required by law but recommended at basic conversational level.
3. Portugal
Moving west through Europe, you will find another perfect place for relocation – Portugal. Portugal's rapidly growing economy, along with its almost perfect climate and affordable living, makes it a perfect place to live. And Portugal simplified the migration process for all those who want to relocate and enjoy working and living there.
Relocation Procedures
Portugal, just like the Czech Republic, has many relocation options. Some of them are just perfect for entrepreneurs and digital nomads.
Self-Employment Professional Residence Permit (D2 Visa Type):
Suits for individuals who intend to live in Portugal for 182 days per year.
Requires a stable income in the current country of residence.
The income must be no lower than EUR 750 per month.
Suits the majority of freelance specialists.
Startup Visa:
Aims to develop business and innovation in Portugal.
Encourages opening and/or relocation of businesses, technology, and knowledge to give it the platform for further development.
The businesses must have the ability to create qualified employment.
The businesses should have a turnover of over 325.000€ per year and/or assets value of over 325.000€ per year.
Golden Visa (Residency by Investment):
Individuals applying for the Golden Visa have several options to choose from.
Minimum real estate investment of EUR 280 000.
Capital transfer to one of the spheres of national and cultural development (science, technology, maintenance of the cultural heritage).
Create a minimum of 10 new jobs or invest in the business registered in Portugal, creating a minimum of 5 permanent jobs.
4. Malta
The only island on our list, located in the middle of the Mediterranean Sea, has more to offer to migrants than just delicious food, a fantastic climate, and a beautiful sea. Even though it is not an obvious choice, Malta is a perfect place for digital nomads, business people, and entrepreneurs, and the relocation process will be relatively smooth and comfortable.
Relocation Procedures
Just like the previous countries in our list, Malta has something to offer to immigrants, including the new type of visa for digital nomads, launched in 2021.
Nomad Residence Permit:
Suits the freelancers, the business owners who run their business remotely, and employees of foreign companies working remotely.
Requires minimum income of EUR 2 700 per month per person.
Requires a registration fee of EUR 300.
Requires purchase or rent of the real estate.
Requires medical insurance.
Residency Visa Program (Residency Upon Investment):
An individual must permanently settle in Malta.
Requires a 3-month-long stay in Europe every 6 months.
Requires a minimum of EUR 500 000 in capital assets.
An individual must invest a minimum of EUR 10 000 in real estate.
A contribution to the government of EUR 58 000 is required.
A contribution to the non-profit organization in the amount of EUR 2 000 is required.
Startup Residency Program:
Suits individuals who have an intention to start or expand their business in Malta.
Suits the startup founders and co-founders whose business has been registered for at least 7 years.
The minimum investment of EUR 25 000.
Requires sufficient capital for living in Malta.
5. Georgia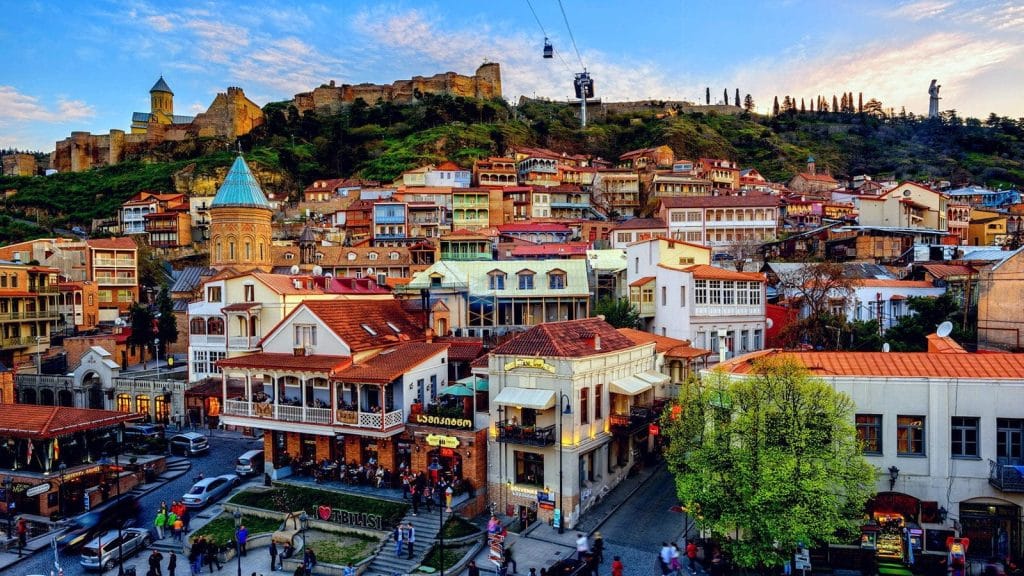 From Mediterranean to the Black Sea, the last country on our list combines everything one seeks when looking for a new place to live. Georgia, a country with a long history and ancient culture, today is a developing democracy that welcomes and encourages immigration and entrepreneurship. Georgia created comfortable terms for freelancers and business people to settle down and develop their businesses and the country's economy.
Relocation Procedures
The citizens of 95 countries can enter Georgia and stay on its territory for up to 1 year with no specific visa requirements, which simplifies the relocation process for digital nomads from many countries.
Additionally, Georgia has several recently established options for long-term residency.
Investment Residency:
Requires a personal investment in real estate, which costs a minimum of USD 300 000 in GEL equivalent.
Making investment through Georgian company on a minimum of USD 300 000. Further, the company's annual turnover must begin with USD 50 000 and show the subsequent progression.
Work Residence Permit:
Requires an employment contract with at least 6 months remaining (the requirement is applicable for Limited Liability Companies (LLC) and Individual Entrepreneurs (IE) as well).
Requires proof of sufficient funding to support oneself during the period of residency.
The period of residency starts with 6-12 months for the first permit, with a further extension of up to 11 years.
The annual turnover should exceed GEL 50 000.
Wrapping Up
We have recalled the top 5 countries that provide a relatively easy and comfortable relocation process. Whether you are a digital nomad, an entrepreneur, or a startup founder wishing to move to another country, one of these 5 options may become a starting point. And who knows, maybe this article is the beginning of something new and exciting.
If searching for new opportunities, you will end up choosing Georgia as your country of residence, let us help you!